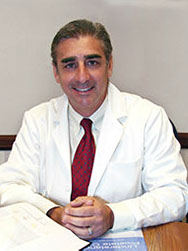 Dr. Leonard Kaufman was educated at Emory University and received his medical degree from the University of Kansas. He completed a urological residency at the University of Nebraska, where he served as resident representative for the National Association of American Medical Colleges. Dr. Kaufman completed a fellowship in andrology (the study of low- T) and male infertility at the University of Illinois in Chicago in 2000.
Dr. Kaufman, an expert in testosterone replacement therapy, is the Director of the Men's Sexual Health Center of South Florida. His research has been published in peer-reviewed journals, and he has presented abstracts at regional and national meetings of the American Urological Association and the American Society of Reproductive Medicine.
Dr. Kaufman received the Pfizer Scholar in Urology Award in 1998. He serves as Chief of Urology at JFK Medical Center, where he is a regular speaker for the hospital's Prostate Cancer Support Group.
Dr. Kaufman is Board Certified, a Fellow of the American College of Surgeons, a member of the Palm Beach County Medical Society, and has been named a "Super Doctor" in urology by his peers since 2008. He is a native of Miami and fluent in Spanish.